Afro Introductions Review
Afro Introductions Review
Review of Afro Introductions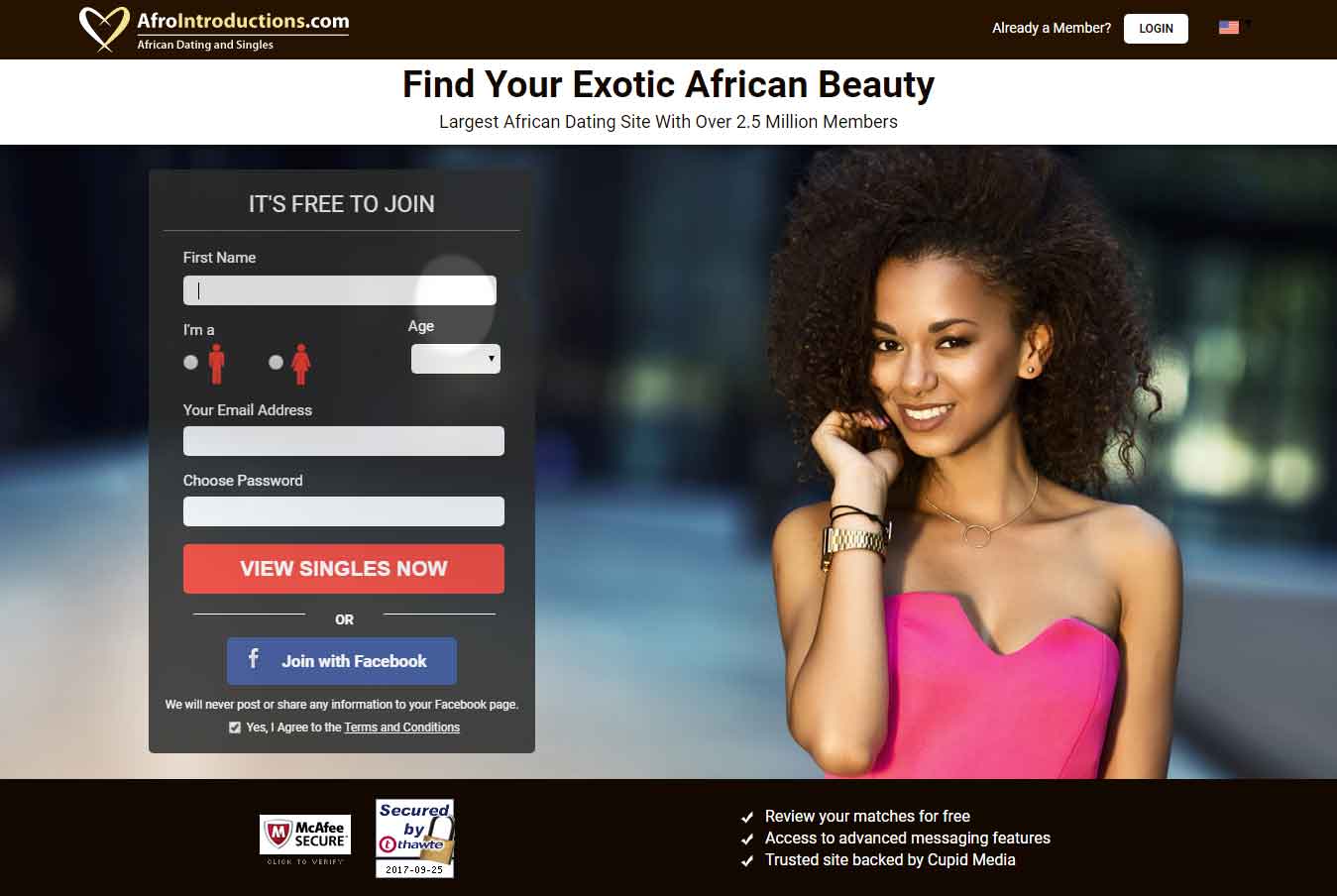 Overview
While open to all singles, this site seems to cater to men looking to land a bride from a distant land (and vice versa). The About Us page says the site is for singles of African heritage residing in the U.S., Canada, Africa and Europe. To marry a foreign national, you can complete pre-screening information to facilitate an application for a non-immigrant visa.
If you're looking for someone closer to home, AfroIntroductions.com has a lot of members so the chances are good that you can find someone within 100 miles—especially if you live near a major city. But the question is, have they logged into the site in the last year? I found a lot of dusty old profiles here.
Interract with other members
There are no chat rooms, message boards or content to comment on, so members must communicate through email or live chat. While subscribers can start a conversation with "standard" members via email or live chat, non-paying members can't interact with each other.
For video mail and preferential placement of your profile, the "Platinum" membership is $34.99 a month (or $12.50 monthly with a one-year commitment). Platinum members can also type in notes about members on their profiles (no one sees these notes but you). If you can live without that or the video features, a "Gold" membership will save you some money. This one includes the usual benefits (unlimited email and IM) for $29.99 or $10 a month, depending on the subscription term. The subscription prices seem kind of steep when compared to other options for online personals.
The site provides matching based on your personal requirements—profile pics cycle across the bottom of your screen, inviting you to click on someone and learn more about them. As a man in his mid-30s, I set my preferences for a woman between 21 and 40. The site did a pretty good job of presenting people I might hit it off with.
A basic search within 250 miles of my location turned up a number of promising profiles within my age range and 372 in all. You can conduct searches based on criteria such as occupation, education and "willing to relocate," but advanced criteria is not available—not even for subscribers. That makes it tough to narrow things down if you're looking for something specific in a partner!
Running searches revealed another issue. Searching for someone fluent in English with at least a vocational college degree reduced my results drastically. 103 profiles came up and of that number, only 13 had logged into the site in the last month. The vast majority of these women hadn't been on the site in more than a year. So the site definitely seems geared toward people looking for international love affairs.
There are always a lot of members online—generally between 500 and 2000—but numbers drops precipitously after 5 p.m. Pacific Time. This is probably because the women online usually live somewhere other than North America.
The site's video features can't be used by free members, even when communication is initiated by a subscriber. This diminishes the value of a subscription, especially with an apparently small pool of paying members. When I checked, there were about 150 women between the ages of 20 and 40—worldwide—who were paying for this service. While men tend to seek out and contact potential matches, women often prefer to post a profile and see who contacts them. Men are much more likely to pay for an online dating service than women are. But it's a little disconcerting that so few women would subscribe to this service.
Profile Depth
Members can go into great depth with their profiles. In addition to a long list of interests to mark off, there are 12 optional essay questions to supplement the basic "about me" and "about the one I'm looking for" sort of questions. One of these is "How adaptative are you to having a partner from a different culture to your own?" Poorly worded, but another indicator of this site's emphasis on cross-cultural connections.
AfroIntroductions' profiles have a customizable "Quick View" that allows you to see at a glance what is most important to you. For example, whether or not someone is a non-smoker, whether or not they want kids, or what they think is their "best feature." Though limited to a maximum of 8 fields, you can choose from a long list of pertinent criteria. I really like this function.
The site offers free profile verification, which is a great way to make other members more confident that you are who you say you are and your photos are up to date. Just send in a scan of your I.D. and they will post a "Verified" badge on your profile.
Members can also set "CupidTags," which work like keywords that come up in searches. Searching CupidTags is a handy feature. Select a term from the "cloud" and see what comes up! I picked "movies" and got 389 hits in my age range, although the site doesn't allow you to sort results based on proximity and most of these women were from other states. Personally, I prefer to date people living within 250 miles of me, but I know this doesn't matter to everyone.
The instructions and explanations on the site are awkwardly written, somehow managing to sound both technical and vague at the same time.

Free Membership
Profiles—
You don't have to pay to see other members' full profiles, including high-quality photos. You can also see who has viewed your profile, a big plus.
Searches—
Search by keyword or "CupidTag" in addition to the usual criteria.
Matching—
The site offers a gallery of "Recommended Matches" based on the preferences you've set. This is a great way to see at a glance who might be interesting, without having to conduct a search.
Communication—
Free members can send and receive messages, but only when communicating with subscribers. The ability to "send an interest" is this site's clumsy phrasing for the simple, generic messages most sites call "Flirts." But here, you can't even pick out a picture or pre-set phrase to send someone—they're simply notified of your "interest" in them. Lame!
Support—
Members are encouraged to complete an online form for customer assistance. You can also call a number in Australia, but the site doesn't offer live chat or a toll-free customer care line.
Paid Membership
Profiles—
Subscriber profiles receive priority placement on the site. Another advantage of a paid membership is the additional detail you can put in your profile. Subscribing unlocks more fields in which to write about your hobbies and interests.
Platinum members can post and view video profiles. The value of this feature is limited, however, as the vast majority of members aren't Platinum—thus, they can't watch your video or post one themselves.
Searches—
There doesn't seem to be any advanced search capability reserved for paying customers. That's a shame, because searching based on more of the information contained in profiles would increase the value of a subscription. On this site, you really can't get very specific with your searches.
Matching—
The site doesn't promise any additional matchmaking services to Gold or Platinum members.
Communication—
Take the conversation off site by including your personal email address or phone number in a message, something standard members are not allowed to do. Platinum members can get their messages translated into the recipient's language. I can see how this would come in handy, given the site's international membership base.
Support—
The same basic customer-service options are offered to both free and paying members.