Review of Black Singles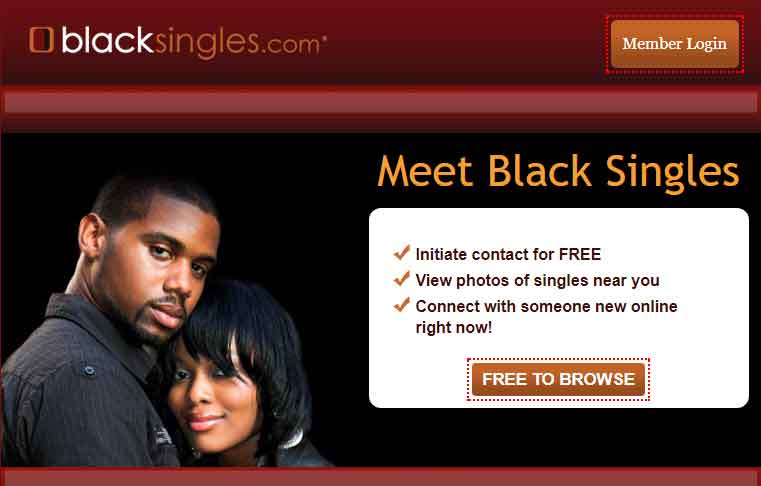 OVERVIEW
BlackSingles.com is a well-organized, user-friendly site that makes things easy for you. Their free membership has more value than most and subscriptions are reasonably priced. You don't have to subscribe to read your incoming mail and can reply once to each message.
The member base is a bit lethargic, though. The chat rooms (which are for subscribers only) are rarely hopping and there are usually about a couple of dozen members online at any one time. This probably isn't one of the most popular sites around.
The site seems to always be phasing features in and out to keep things poppin'. The so-called "Secret Admirer game" will prompt another member to check you out, telling them you're already interested. Like a schoolgirl's friend passing notes between classes, the site acts as go-between. Whenever someone views your profile, this appears in your "newsfeed" tab, a feature that is reminiscent of Facebook. A quick search of new photos posted in the last 3-to-30 days puts fresh faces in front of you.
The site tries to engage the community with its ever-changing "Question and Answer" feature. Members are constantly asked about choices they would make in different situations. The answers aren't always as revealing as you'd like, but you have to applaud the site for giving members something to talk about. In theory, you could write to someone and say "I liked your answer to the question about what you'd do with lottery winnings." And folks might feel more comfortable reaching out to you after reading your answers to half a dozen questions or so.
Profile photos are small—the kind of super-sized thumbnails that make you squint at your screen. I wish you could click on a photo to get a better view. The profiles themselves are dense with information, some of which you have to "earn" access to. Members must answer a question to see other members' answer to it. You scroll down a page and every answer you give unlocks an answer on the other person's profile. Essentially a social networking game, this is a clever way to encourage involvement in the site and coax out revealing remarks that standard questions won't.
When it comes to contacting someone you're interested in, there's an array of options whether you subscribe or not. Choose from e-cards of all kinds, some of which are cute, funny, or endearing. And some are pretty lame. But it's great that even basic members can send these to anyone they want. As free Flirts go, there's quite a selection.
The site's search features are fairly useful. You can't get too specific with even advanced search criteria, but you can view results in order of "newest," "most active" or "closest to you." The handy "list view" tells you at a glance when the members in your search results were last online and includes a snippet of their profile essays.
Matching isn't a strength. The "Your Matches" feature gave me only two profiles to look at! Let me know if these criteria are too strict: a woman 18-to-30, within 50 miles of L.A., nonsmoker or occasional smoker, some higher education, and with a body type that is anything but "portly" or "large/broad build." (I was fine with "a few extra pounds" and "rubenesque." Isn't funny how many words for "big" these sites have?)
Oh yeah, I also wanted someone who was "active," "very active" or liked "selected activities." Turns out that was the problem. Once I accepted "never active" and "rarely active," I got 117 results! So I guess my ladies are nearby, they're just not moving around too much.
BlackSingles.com does not present the benefits of subscription at a glance and there is no full list of features in one place. As the site is always changing things, maybe it's hard for even them to keep track. References to "Click" and "flirts" in the Help section seem to apply to what are now called "Secret Admirer" and "Smiles." The site claims that free members can view message boards, but this is deceptive—you can view the board, but not any of the messages.
A 1-800 number is provided for customer service and there's also an online form if you'd rather get help that way. Personally, I like live chat, but the site doesn't offer that at this time.
Free Membership
You don't have to pay to read and reply (once) to messages from other members or send Flirts and e-cards.
Profiles—
Full access to profiles, including photos. You can also see who's viewed your profile.
Searches—
Full access to advanced search criteria.
Matching—
Limited matching based on basic preferences.
Communication—
Send up to 30 Flirts or e-cards per day, read and respond (once) to email sent by subscribers. No instant messaging or access to chat rooms.
Support—
Full customer service is provided to free members as well as subscribers.
Paid Membership
Unlimited messaging is the main draw here—there really aren't a lot of bells and whistles for subscribers. C'mon, all, how about some video chat?
Profiles—
There are few apparent differences between the profiles of guest members and subscribers.
Searches—
Subscribers can block members they don't want to see in search results and these "undesirables" won't see them either.
Matching—
There doesn't seem to be special matching for subscribers, but the site doesn't make such things clear in its Member Services section or anywhere else.
Communication—
Contact people through email, personalized e-cards or instant messaging. Access to chat rooms and message boards.
Support—
There doesn't seem to be any special treatment for subscribers when it comes to customer care.