Review of Amor
Please note:
this page contains affiliate links.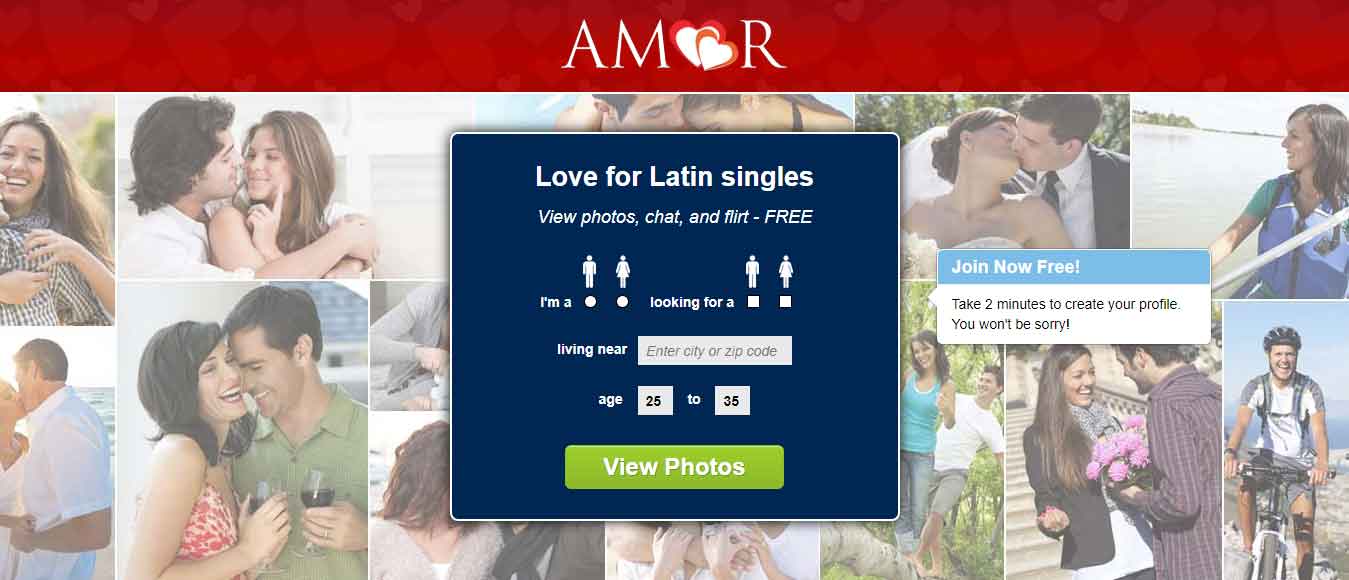 Overview
Amor.com handles their business a little differently than other dating sites. Here, the emphasis isn't on overseas romances. This site has a strong presence in the States. As an L.A. guy, I was especially pleased to see that California's massive Latino community well represented here.
More importantly, all the members I looked at are probably real, live, single women. These profiles don't have the red flags that make me worry about scammers and bots. I saw plenty of people with pictures who also put time and thought into what they wrote in their profiles. There weren't many of the super-brief, super-generic profiles without pics that I'm wary of.
Somehow I got a whole heap of profile views and messages—all from women in my area— even without posting a pic myself. But whenever I tried to read a message, I was sent to the Upgrade Now page. The site is a little deceptive about this point. The FAQ claims that "Yes, all members at Amor.com can receive email regardless of their membership status." Oh good. As long as I can
receive
it, I don't need to
read
it!
I emailed customer service and a couple days later, they confirmed my suspicion. "Please be informed that the free member can still receive emails from the other members, however they cannot read it since reading emails and chatting are reserved for paid members only. Which means you may need to upgrade your account to read your messages." I may need to, huh? Doesn't sound like there's any maybe about it.
That hurts paying customers more than free members.
If free members can't read your emails, it cuts your dating pool not in half but down to a fraction. So if I go to the trouble of writing someone a personalized email—maybe a long one—they can't read it unless they pay for a membership as well? Worst of all, the site doesn't seem to identify Gold members' profiles as such. I don't even know which members can read my messages and which ones never will, unless they subscribe.
You might be wondering how the membership system works, so I'll stop complaining about the site's big, glaring flaw and move on. There's no Platinum tier here, just free members and Gold members. A one-year membership is $79.99 or $6.67 per month, six months is $59.95 ($9.99 per month), and three months is $39.95 ($13.32 per month). Gold members have access to chat rooms and can send emails, use instant messaging and video chat. They get the highest ranking in search results, supposedly, but there is no way to limit search results to Gold members. Again, I never found a single profile identified as belonging to a Gold member.
When I conducted a search, I found 120 women between 21 and 35 living within 250 miles of me who had the keyword "sports" in their profile. I ran the same search for keyword "adventurous" and got 66 hits. Again, these all seem like real people—they filled out more than a paragraph of their profiles. Just to see how far I could push it, I ran a really refined, advanced search based on my personal priorities. This turned up 14 exact matches within 250 miles of my front door. Not bad.
The site claims to use a "scientific matchmaking algorithm." Makes you think about bubbling beakers and lab-coats, doesn't it? Anyway, the matching system compares 50 attributes of your profile to those of more than "10 million active members." The site asks "wanna meet up?" and offers three nice big buttons: "Yes," "Maybe" and "No." The same people kept coming up as long as I didn't click "No." I could see why the site would pair me up with these women, but come on! Ten million members and I get the same five people over and over?
There are usually between 500 and 2000 members online at any one time, 100 on the Instant Messenger. If only Gold members can use IM, I guess that does tell you how many Gold members are online and who they are. The site automatically indicates how many online members meet your search criteria. That wasn't many, in my case—two or three out of every 500 members was a woman within 1000 miles of me. Less than 10% of the members online, worldwide, were women with pictures ages 21-to-35.
Hope you like getting a ton of emails from your dating site, because Amor.com is going to fill your inbox fast. More than 200 messages were sent to my email account in four months. They were mostly matches, but also a little bit of advice and notifications when someone viewed my profile.
Speaking of profiles… The site does a decent job of prompting you to write interesting things that can break the ice and spark conversation with other members. The site asks questions like "if you could 'do lunch' with anyone, who would it be, and why?" You can upload up to 10 photos. Free members can look at a full-sized photo and every field of the profile.
A unique aspect of this site is the Gift Store. There are pages and pages of photo flirts to send. The categories include sports, animals, food, fashion and flowers. But on this site, you pay a la carte with "tokens." Tokens are 10 for a dollar, 100 for $9, 250 for $21 and 500 for $40. Different gifts have different prices. Sending someone a rubber ducky, beer, espresso or kitten pic will cost you 10 tokens. More serious, romantic gestures cost more. A heart-shaped box of chocolates or red rose is 40. A ring is 1000. You get the idea.
Can free members buy and send Amor.com's version of the flirt? I'm glad you asked! Yes, they can. The perk for gold members is that they can include a message with the gift. Also, they can actually read the thank-you message that you send back! (I'm still mad about this "receive but can't read" rule about emails.)
There are no success stories posted. That's a bit ominous, but I suppose it's in keeping with the site's bare-bones approach. A modest attempt is made to coach singles by linking to an advice site. The main article is four months old and there is a glaring typo in the second word of the first sentence. Most of it's not real content, anyway. Men get long-form sales copy for the products of pickup king David DeAngelo and women get their own guru for hire, Christian Carter.
There is no live chat support or toll-free number to call for customer care. Actually, there's no number to call at all.
Free Membership
How valuable is a free membership at Amor.com? That depends. You don't have to subscribe to view profiles, run a specific search, flirt by Showing Interest, or buy "gifts" for other members (flirts). But I hope that's all you wanted to do. Non-paying members are really only window-shopping here—to read or write emails, you have to upgrade.
Profiles—
Review other members' profiles in their entirety, including full-size photos. For your own profile, the site offers a chance to show your sense of humor. Your answers to their questions can make nice conversation-starters for potential dates who view your profile.
Searches—
Keyword search, advanced search with criteria like education, religion, smoking/drinking, income, body type. Everything you want from a search, most likely.
Matching—
The matches seemed pretty close to the mark for me, but they aren't updated all that often. It's a little annoying to keep getting the same people pushed on you until you scream NO!
Communication—
Send photo flirts, called "gifts," on a pay-as-you-go basis (the price is generally a buck per gift). Show Interest for free. And that's it. You can't read emails or write to anyone, even if a Gold member contacts you.
Support—
Good luck getting anything out of the FAQ. To say it's less than extensive is a colossal understatement. There is an email form you can complete. Response time seems to be about two days.
Paid Membership
This is what you want if you'd like to actually communicate with anyone on the site. At $19.95 a month or just $79.99 for a year, they're not asking for a king's ransom. But remember that only Gold members can read your messages and there's no way of knowing if the person who caught your eye is a Gold member. (Unless you see them using IM.)
Profiles—
The site promises priority placement of your profile. But you won't be identified as a Gold member in search results or anywhere else. They might put you in the Featured Member section, but I don't know for sure. This is one of many examples of something the site doesn't explain anywhere.
You're supposed to be able to post more than the 10 photos free members can. But guess what? The site doesn't say how many photos that is. I asked them via email and all they said was that subscribers can post 10 photos. I give up.
Searches—
All members have access to advanced search criteria, so subscribers don't get to feel special about it.
Matching—
Again, I don't believe there is any benefit to being a subscriber when it comes to the site's matching.
Communication—
Read messages sent to you, send them to other people, use IM and video chat. Exclusive access to the chatroom.
Support—
The skimpy FAQ only answers the most basic of questions. There is a Contact Us form to complete but you may have forgotten your question by the time you get an answer.