Review of Black People Meet
Please note:
this page contains affiliate links.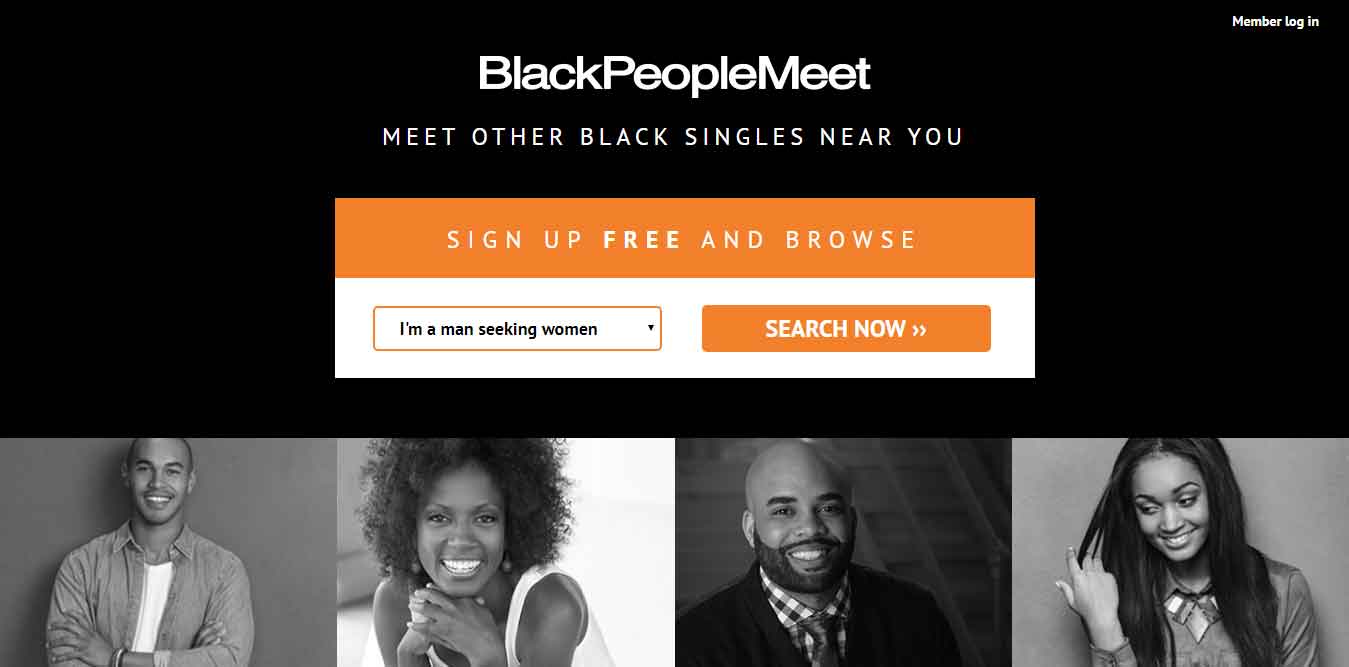 Overview
This site is HUGE. They have more active members who are black than Match.com and they're three to four times the size of other sites in this category. All those members mean a lot of opportunities to find a match who meets your criteria. Gotta go where the action is!
BlackPeopleMeet.com does a nice job of nudging singles to connect through matching features that automatically send Flirts or establish mutual interest. They push you off the sidelines and into the game. The downside is that unless you pay to play, you can't read messages or even Flirts—you're totally cut off from the community. It's a little like being limited to window-shopping until you buy a ticket to get into the store.
What's more, the site doesn't differentiate between free and paying members—you can't see who's a subscriber and who isn't. So you can't steer clear of the people who would have to upgrade to even read your message.
My problem with this kind of set-up is that it penalizes the paying customers along with the cheapskates. If I'm a subscriber, I want to be able to communicate with ANYONE on the site. I get that sites need to restrict free members to interactions with paying members, but don't limit subscribers to talking to other subscribers. Especially when no one knows who's a subscriber! The great thing about online communities is their scale—segregating them makes matching harder to do and defeats the purpose.
Of course, the prices here are extremely competitive. This site gives you about the same features as the most expensive sites for about one-third the price. For just $1 a month, you can also get an add-on to "highlight" your profile in a color that stands out from the rest. The same feature is available for messages.
Did I mention this site was huge? There are always a lot of members online. Click "Who's Online Now" and you'll probably get pages of results, all matching your basic preferences. I was given 372 profiles to consider chatting with, and the results were ordered based on people's proximity to me. Only 20 of those women were in California, but that's okay for a random, middle-of-the-day check of "Who's Online Now."
BlackPeopleMeet.com has a much better design than most online dating communities. It's easy to get around the site, and how things work is clearly presented. Pop-ups and drop-downs are much easier to read than links to pages of itty-bitty text, like a lot of sites have. Everything is presented with large, colorful and inviting buttons, tabs and graphics. You can spend some time here without getting frustrated or bored.
Searches are simple, which is a double-edged sword. On the one hand, they're easy to use. Run pre-set searches based on your basic preferences, popular keywords or the keyword of your choice. But you can't order your own search results—not by proximity to you, number of photos, last login or any other useful criteria. Hope you like paging through a ton of random results! What a pain.
Fortunately, the site throws three daily matches at you, saving you the trouble of doing searches. You're asked right away if you think each person is a possible match—yes, no or maybe? If both singles say yes, you're on your way toward making a date after one click of the mouse. Obviously, you still have to communicate and connect, but pairing people up is what these sites are all about and this feature makes it easy.
Profiles are pretty bare bones. While well organized, they don't pose interesting questions that are likely to yield unique responses. The "Personality" section asks "Are you romantic?" and "Do you enjoy going to the movies?" I wonder how many "no"s they get.
That said, profiles present a person's key responses at a glance. They also have a couple of nice features many sites don't offer. Even non-paying members can post a video greeting or audio clip, which is the very best way to introduce yourself to other singles. You do have to pay for a membership if you want to check out anyone's clips.
You can also personalize your profile with wallpaper and a small, animated icon. There is a long list of goofy graphics to choose from, but it's clear the list is generic and not customized for its audience. I'm not sure how popular the hockey players and Jewish icons are among this site's membership!
With the "Message Ideas" feature, you can choose questions for people to answer when they want to write to you. That way, anyone who contacts you will tell you things you really want to know up front. Some of the available questions are practical, some are quirky, and some are surprisingly revealing of people's personalities. You can ask "What is your all-time favorite movie, and why?" or "If you had to leave everything behind but got to choose 5 things to take with you, what would they be?" Not bad.
There is no live customer service—not by phone or chat. In fact, you have to find a sneaky little link to even get to an online form to fill out. They must be saving money on staffing… The good news is that they answered my question inside of 12 hours and they approve photos within two hours.
The site links to an online magazine, but there isn't a ton of content and it doesn't seem to be updated very often (the lead article early in the winter was about spring flings—way to jump the gun, y'all). But the articles are brief and easily digested. You can also ask for dating advice via an online form.

Free Membership
A free membership won't get you very far. You can't chat. You can't see if other members have added you to their favorites list. You can't access your inbox. You can't even see who's sent you a Flirt!
Profiles—
Call in audio greetings to go with your profile, post a video clip, customize your profile's wallpaper or choose an animated icon to go with it.
Searches—
Searches are simple, to a fault. There's no advanced search capability and results are a big pile of profiles you can't organize the way you want them.
Matching—
The "Daily Matches" and "I'm Interested" features present potential dates and if you like what you see, notifies the other person for you.
Communication—
Free members have access to basic Flirts—a bunch of smiley-faces and monosyllabic greetings, basically—but that's about it. These are really generic and aren't likely to do more than get someone to take a quick look at your profile.
Support—
Minimal. A hard-to-find online form is the only way to get ahold of anyone.
Paid Membership
This is a great value. While there's nothing super-special about the features, you get everything you need for a low price.
Profiles—
Paying members can view video profiles.
Searches—
There doesn't seem to be any advanced search capability reserved for paying customers.
Matching—
The site doesn't promise any additional matchmaking services to subscribers.
Communication—
Video chat, unlimited emails, etc.
Support—
Minimal. A hard-to-find online form is the only way to get ahold of anyone.