Review of Black Cupid
Please note:
this page contains affiliate links.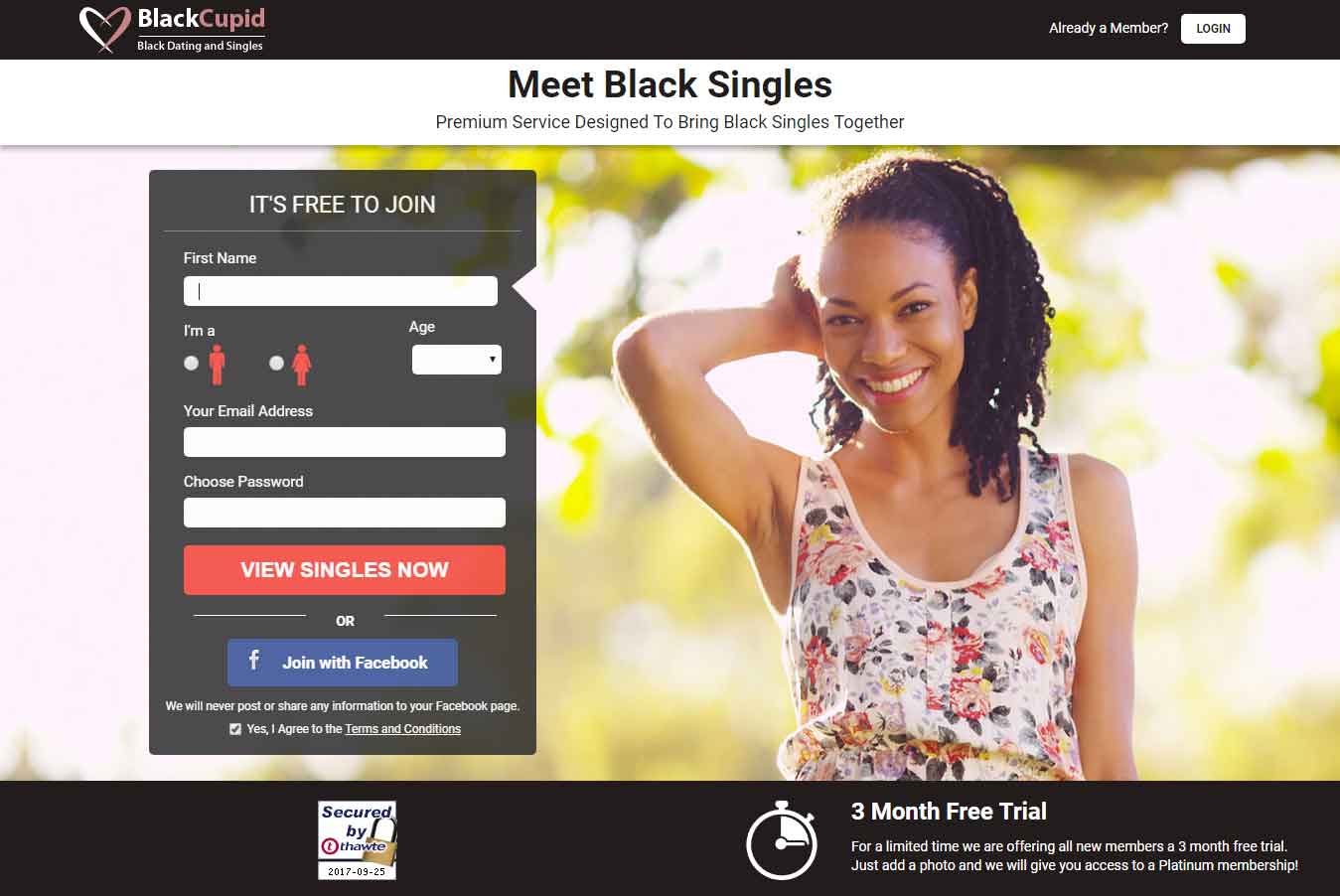 Overview
I found this site to be functional, but it didn't wow me in any way. The subscription price is reasonable but it isn't backed up by a wealth of features or a deep member base. As a matter of fact, this site is not exactly a hotbed of activity. A LOT of members haven't been active in the last month. There are generally fewer than 20 members online (why post this number if the total is embarrassing?), and a search with pretty inclusive criteria found just 7 results for me. What's more, I found just three women in the whole world who are between the ages of 20 and 40 and willing to pay for a membership.
BlackCupid.com offers three tiers of membership: Standard, Gold, and Platinum. Standard membership is free and allows you to "send interest" to other members (i.e., "flirt") and correspond with Gold and Platinum members. Standard members can go to the trouble of writing to another Standard member, but one of the two of you will need to upgrade for the message to be read.
Gold members ($14.99 a month) can communicate with all members of the site, no matter the member grade. And what do Platinum members get for $19.99 a month (or $10 monthly with a one-year commitment)? They can watch video profiles, send and receive video mail, and have their messages translated into the recipient's language.
There is exactly one success story posted. It's very brief and there is no photo. And oh by the way, the couple had one date and are "taking it slow." This is supposed to give me confidence that the site works? Actually, it had the opposite effect!
One thing I liked is that you can see at a glance how your profile matches up with what someone else is looking for. When you view a profile, it automatically compares your answers to what the other member wants.
You can also select the criteria that are most important to you (up to 8 fields) and this pops up first when you look at someone's profile. This "Quick View" feature is pretty handy. For example, if you really care about body type, political views, religion or star sign, that info shows up right next to the person's profile pic.
Profile options
Profiles can be as bare bones or as vividly revealing as you like. The "Personality Info" tab throws a bunch of bonus questions at you, some standard and some a bit more specific. "How would you describe your dress sense and physical appearance?" and "How would you spend a perfect romantic weekend?" are likely to yield different answers than the basic catch-alls, "A little about yourself" and "What you're looking for in a partner." If your "best feature" is your butt, biceps, personality or your wallet—these are all real options—you can say so (or not, if that sounds cheesy to you).
I have to say though, most people don't take advantage of the opportunity to open up about themselves. The majority of the profiles I saw have a few words up there and that's about it.
If you're interested in doing the international or interracial thing, the site asks "How adaptative are you to having a partner from a different culture to your own?" I didn't know adaptative was a word, but I guess it is. Awkwardly phrased, but for people in far-flung countries, this question is helpful to have.
Another fun feature are the "CupidTags." These are specially selected keywords that come up in searches. The idea is to choose words that say a lot about you or what you're looking for. Searching CupidTags helps members make connections based on shared values or interests. I ran a search for "Sports" that turned up more than 700 women. Too bad the site wouldn't let me order the search results based on people's proximity to me. I had to wade through pages of results with women from other states.
BlackCupid.com offers profile verification, which is a great way to reassure others that you are who you say you are and your photos aren't from the 20
th
Century. Just send in a scan of your I.D. and they will post a "Verified" badge on your profile.
I've spent hours on this site and I'm still confused about who can talk to who, who can see what on which members' profiles, and other basic questions about their confusing, three-tiered membership setup. The FAQ is fairly well organized but, like the rest of the site, poorly written.
There is no toll-free customer-care line to call and no live chat with representatives, which more and more sites are offering now. An online support request form is provided. They answered my question within four hours, which I really appreciated, but sent me a generic response, which I didn't.
There are no chat rooms, message boards or content to comment on.
Free Membership
Standard members can browse profiles, "show interest" in interesting people and write to or reply to subscribers. That's enough to see if this is a membership worth paying for.
Profiles—
View other members' full profiles, including high-quality photos. The site will also tell you who's looked at your profile, so you can return the favor.
Searches—
Search by keyword or "CupidTag" in addition to the usual criteria.
Matching—
On your homepage is a gallery of "Recommended Matches" based on the preferences you've set. I got a handful of matches in my state and just a couple in my city (Los Angeles, which isn't exactly a small town). Not too impressive.
Communication—
Standard members can send and receive messages, but only when communicating with subscribers. The ability to "send an interest" is this site's awkward phrasing for the generic messages most sites call "Flirts." But on BlackCupid.com, you can't even pick out a picture or pre-set phrase to send someone—they're simply notified that you like them. At least it's a quick, one-click deal!
Support—
Members can call a number in Australia or complete an email form, but the site doesn't offer live chat or a toll-free customer care line.
Paid Membership
Anyone can write to you if you buy a Gold or Platinum membership, and you can enjoy the wild world of video chat.
Profiles—
Subscriber profiles are ranked above Standard members in search results using the "Order by: Member Grade" option. Platinum members can post and view videos. However, a pretty thorough search didn't turn up a single video greeting, at least not among the ladies.
Searches—
There doesn't seem to be any advanced search capability reserved for paying customers.
Matching—
The site doesn't promise any additional matchmaking services to Gold or Platinum members.
Communication—
Platinum people can use the IM and "A/V features" (video greetings and video chat) when contacting any other member. They can also get their messages translated into the recipient's mother tongue, unless it's a really obscure language.
Support—
The same basic customer-service options are offered to both free and paying members.