Review of AfroRomance
Please note:
this page contains affiliate links.
OVERVIEW
An appealing design, round-the-clock customer service and ocean-sized pool of members help this online dating site separate itself from the pack. Seems like AfroRomance has a good track record—there are dozens of success stories to read, with pictures proving these folks actually exist. At Afroromance black singles are looking to date outside of their race. The main downside is that the site doesn't have a matching system, let alone actual matchmakers, to pair people off. Guess we're kinda on our own when it comes to finding each other. But nobody knows what I want better than me. There are plenty of black personals to search for, approach them and date. Create your free account right away.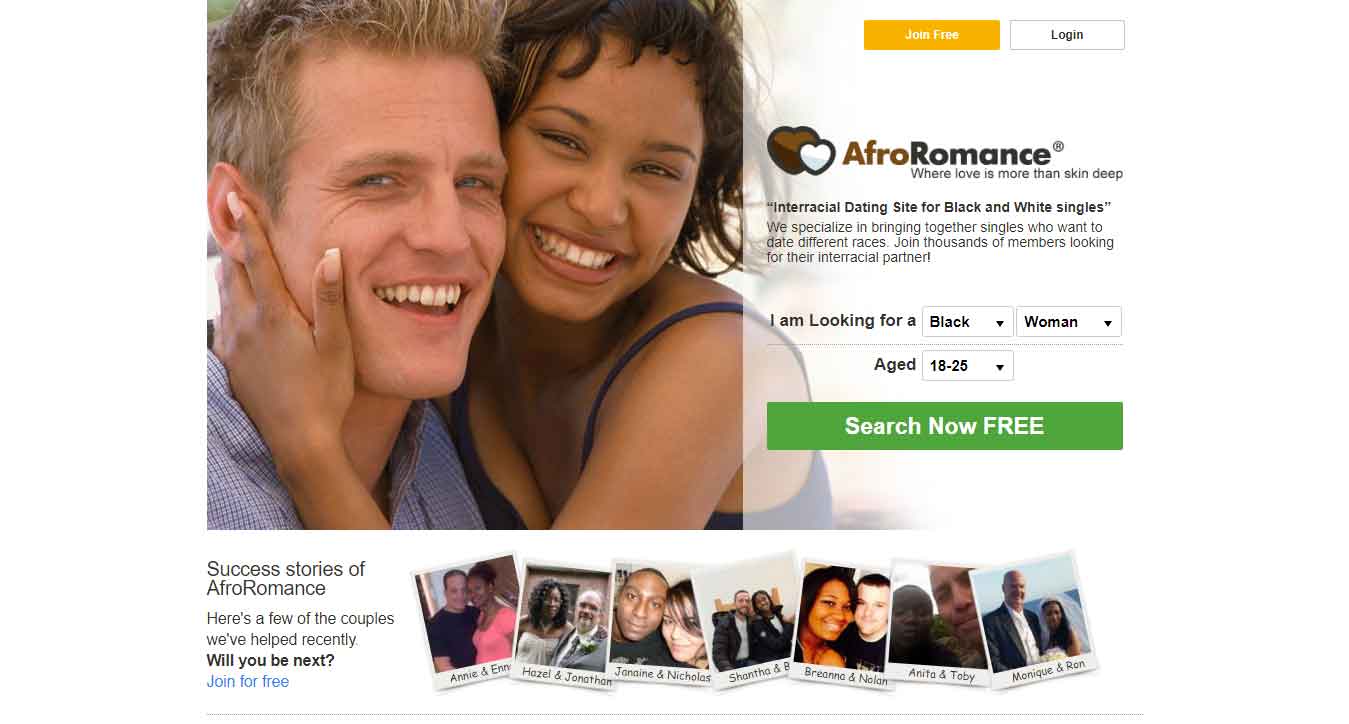 This website is less "you gotta pay to play" than a lot of them. Becoming a free user is really simple by signing up and just submitting your details. Make sure that whatever you submit is what you want others to know about you and how you want to present your true self. A bunch of features are available with a free membership. If subscribers contact you, you can read and reply to their messages. Enjoy the group dynamic of a chat room? Go on in! "Guest" members can spend up to two hours a month in the chat rooms. Finding your online date is suddenly easier with AfroRomance's online interracial service.
Though sales are offered periodically, the everyday prices are pretty low. A Premium membership will set you back about 38 cents a day, if you commit to a 6-month membership ($11.66 a month). If you're wary of making the investment or just that optimistic about your prospects for love, a 3-month membership only costs about $1.50 more per month. And you can give it a shot, risk free, because AfroRomance interracial service offers a money-back guarantee. New subscribers can call in to get a refund after 90 days (see their website for details).
Upgrading gives you first crack at finding and contacting new members as well as instant messaging (IM), webcam chat and the ability to talk on the phone without personal numbers being exchanged. See who's viewed your profile and if they clicked "Yes" or "Maybe" on it. When you make changes or post new photos, your profile goes to the front of the line for site approval. And you can host little chat parties with several people you're interested in (or just friends) with an invite-only setting to keep out the riff raff.
If your profile isn't attracting the interest you hoped for, it could probably use some TLC. This site offers a free profile-review service so you can get feedback from someone who sees good profiles and bad, all day, every day—someone who works in the online dating industry. It's a great concept every site should offer, in my opinion. Profile reviews are done via "live chat" from 10 a.m. to 6 p.m. (Pacific Time), Sunday through Thursday. You don't have to be a subscriber to try it out, either—this feature is a freebie.
If you need regular-old customer service, you can IM with a rep Sunday to Thursday between 6 a.m. (Pacific) and LATE. Whenever I looked, the little "Live Help—I'm Online" icon was lit up and ready for me to click on. They start up a little later on Fridays and Saturdays—11 a.m. PST—but reps are standing by until about 3 a.m. I've never come across a site that offers customer service in the middle of the night! Not a dating site, not Amazon.com, not nothin'.
If you miss the 20th Century or just hate typing, call in Sun. to Fri. between 1 p.m. and 9 p.m. (Pacific). Either way, it beats filling out a form and waiting for someone to get back to you. But if you DO send in an email, they'll still answer right away. I wrote to them and a response came back in under an hour.
This site tries to educate and inspire singles to make the most of their interactions with one another. Pages of content (advice, war stories, funny dating videos) are available through an e-zine called "Fyooz." They update it pretty regularly and for the most part this is useful, entertaining stuff. It's also an opportunity to interact, as there's usually a lively reader discussion going on in the comments section.
The site puts a lot at your fingertips. Along with the usual stuff, your homepage shows you new members, recently updated profiles, links to success stories and other e-zine content… I've found some sites kinda hard to get around, but this one's easy to use.
A lot of the black personals are light on substance. I prefer sites that throw a lot of essay questions at you to encourage thoughtful, personalized responses. Here, they put people's standardized answers to breezy questions at the top of the page. Speaking for myself, the first thing I want to see is what a woman wrote about herself and what she's looking for. The fact that a lot of women would agree with the statement that their sense of humor is "Dumb and Dumber" doesn't do much for me. I get a lot more from how she expresses herself.
Searches can be customized down to the smallest detail. The site lets you narrow it down by ethnicity, body-type, star sign or what someone does on their days off. The list of criteria is a page long. And the site is big enough that you can be selective and still get search results. I got a good-sized list even when I filtered my search several different ways at once.
Oh yeah, you can check your astrological compatibility with the click of a button—this brings up a lengthy description of the relationship dynamics between your sign and theirs. Not a big deal to me, but I know some folks love to see what the stars say!
Let us have a look at the memberships that this website has to offer.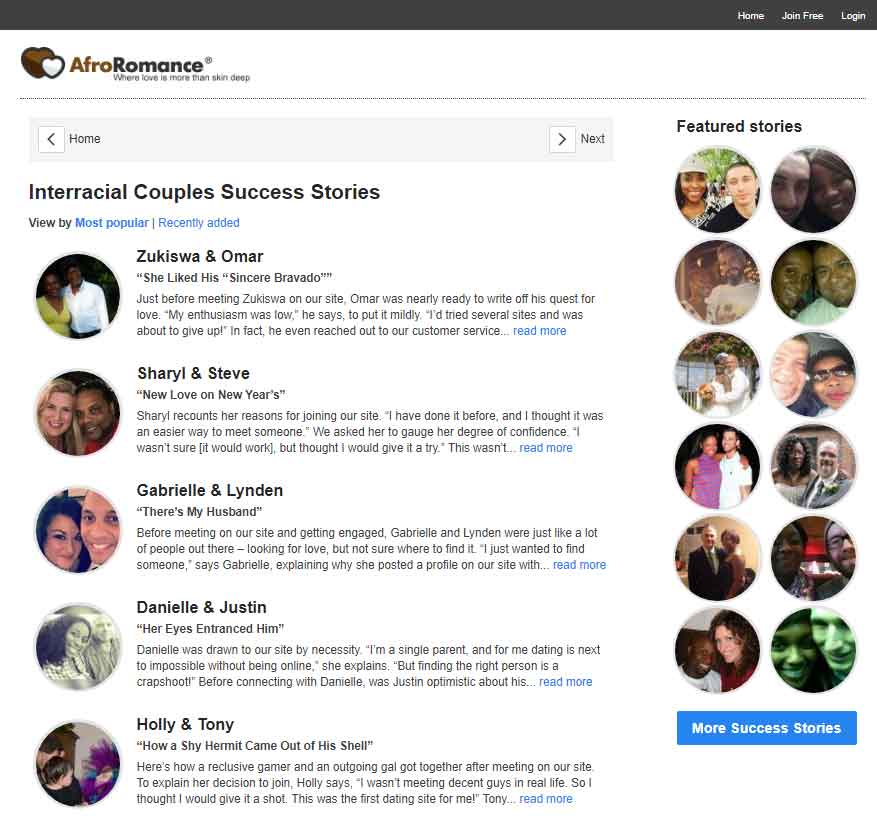 Free Membership
Guest or "basic" members can perform custom searches, peruse profiles in their entirety, visit chat rooms (for two hours a month) and talk to subscribers so long as a paying customer is the one to initiate the conversation. Otherwise, you'll need to upgrade to arrange an actual date. But becoming a free user is pretty straightforward.
Profiles—
View others' full profiles, including high-quality photos. But guest members can't see who's checking them out. That's considered a premium feature the site calls "Who's Looked At Me." Also, guest members only get five photos for their profile.
You don't have to pay a dime to get a live review of your profile (basically an advice session) via chat. No appointment necessary. Apply what you've learned to improve your profile and it will be approved within 24 hours.
Searches—
Search by specific keywords or based on members' answers to profile questions about their sense of humor, how they act at a party—you name it. I looked for someone who didn't want to live in the city or suburbs and wasn't a slave to fashion. The search came back with hundreds of results in my area.
Matching—
While members receive update emails with links to newly posted profiles, there's no matching per se. That's a bit of a head-scratcher.
Communication—
Unlimited Flirts and you can reply to emails from paying members or IM with them, as long as they initiate the conversation. Access chat rooms with a "party line" you can call into if you'd rather talk than type.
Support—
Whether you write an email, call in or start a chat session, you get help from customer service in like the blink of an eye. There's no FAQ, though.
Paid Membership
One of the big things I look for when deciding whether or not to plunk down cash for a membership is how many members are online. On AfroRomance, there's always at least a couple of thousand people on the site at any one time. It's easy to find someone to talk to
right now
. All in all, this membership is a good value—prices are lower than most competitors' and you get features worth paying for.
Profiles—
Priority approval of new photos or other profile changes is a paying-member perk. Subscribers can post up to 15 photos (those in the cheap seats get five).
Searches—
As I said, the search capability on this site is second to none.
Matching—
No matching, not even for premium members? That's lame. Premium members do find out first when new members appear on the site, giving you a nice head start on the competition.
Communication—
If you have a webcam, try video chat to talk "face-to-face" before making plans to meet in person. Mark members as a "Yes" or "Maybe" and see who's also got you down as a "Yes."
Premium members can arrange anonymous private calling to talk on the telephone without anyone's real numbers being exchanged. Or create your own chat room and control the "guest list" yourself. If someone wears out their welcome, you can give 'em the boot.
Support—
Reach a rep eight hours a day, six days a week via a toll-free number. Live chat is available pretty much anytime except early in the day on Fridays and Saturdays.
Search for black personals, chat with singles of your interest and let love come your way whether as a free user or with a paid membership on one of the best online interracial dating service.