Review of Swirlr
Please note:
this page contains affiliate links.
This site has many strong points. It is a niche dating site, specialized in interracial dating as all of the sites that we review on InterracialDatingSites.com.
The stronger points of Swirlr.com are:
· Huge number of singles that are interested in dating someone
· 24/7 live support
· It is offered for free and provides the ability to reply back to messages for free (unlike other interracial dating sites)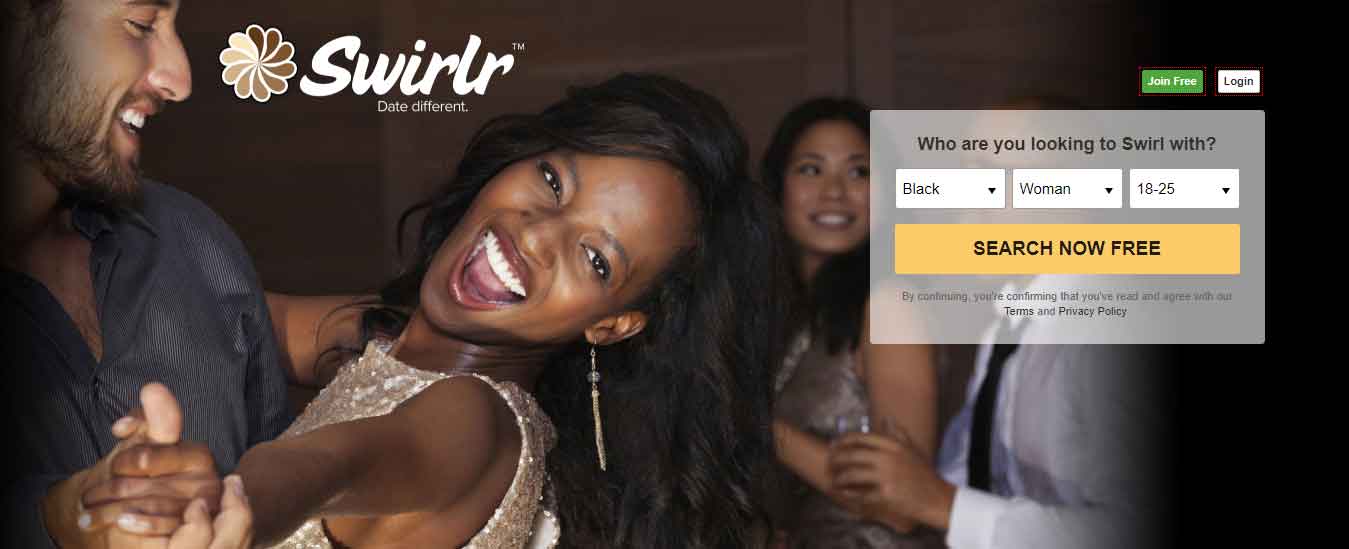 Based on our experience using the site, there are a lot of people always online looking to date someone. I searched for singles in many areas and from what I find out is that almost all of the places that I searched for were crowded.
The layout and design of the website is very beautiful and gives you the "interracial dating" feeling. The homepage is very nice and it gives you matching opportunities right away. If you take a look at the homepage, you will be able to locate nearby singles straight away.
The opportunities do not finish there. The search function of the website is proximity based. You get the chance to choose from your preferred ethnicity, age and gender. This is always helpful, as it gives you relevant results straight away!
Every time we tried to use the site there were thousands of singles online. It is really easy to find someone to talk with at any time. This way, you do not have to wait for messages to be returned. You can get into action really fast!
Profile details of Swirlr.com
The profiles of Swirlr.com answer basic questions such as humor, hobbies and what the user is actually looking for. You can get an idea of the user straight away, so you can know for sure if you are going to message him/her or reply to him/her. However, many members choose to leave the questions at registration empty and their profiles look generic.
As a Free member on Swirlr, I could upload up to 5 photos. However, premium members can upload up to 15. Based on their coaching guide, close-up face photos seem to work better than group photos and blurry photos. They encourage you to upload a close up. Based on my experience on interracial dating sites, I found out that whole body photos are working better so I did upload a full body photo.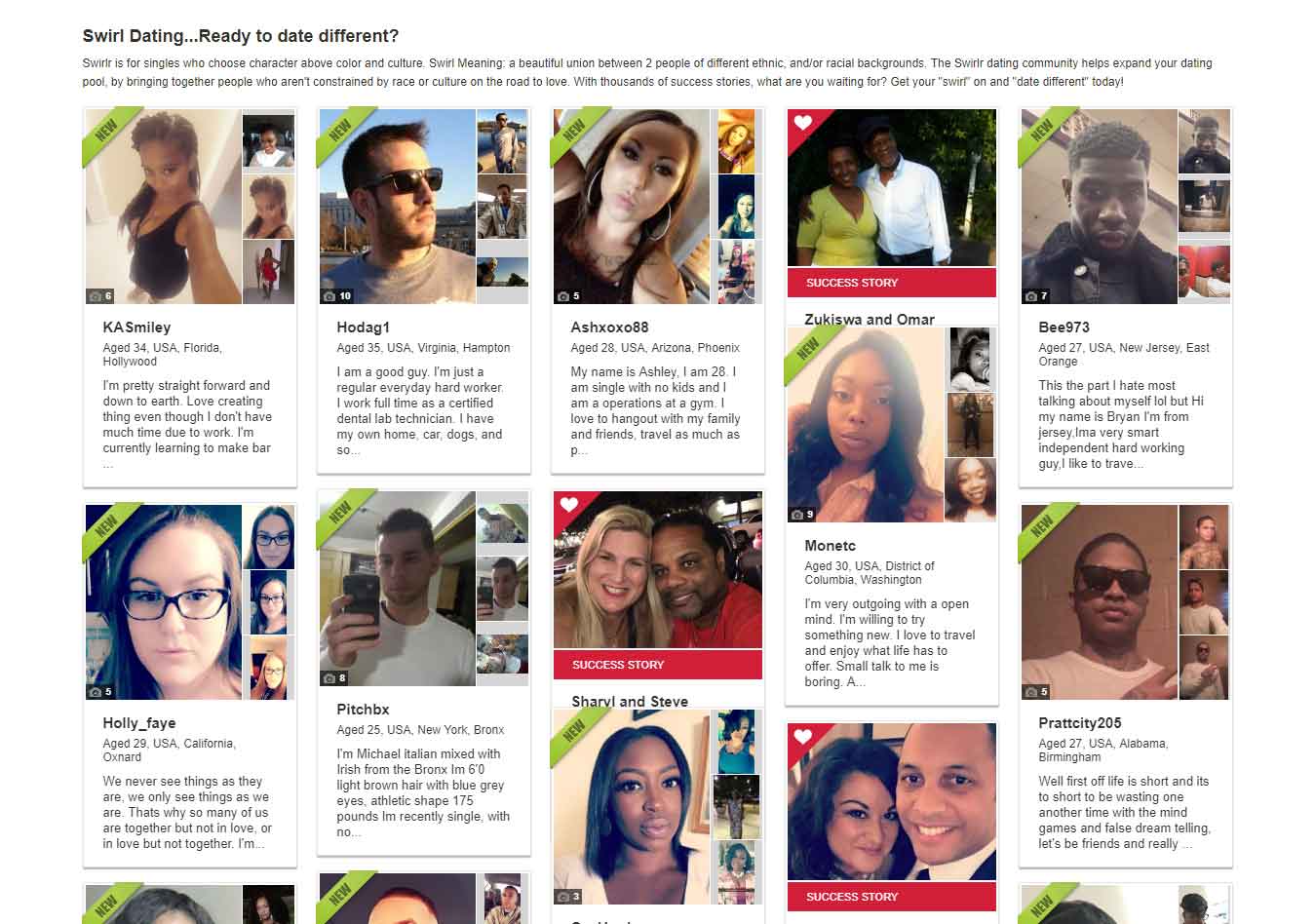 Premium service even for FREE members
Even if you do not subscribe to the site, they offer a free profile-review service that can help you to polish your profile to perfection. This is what they offered to me when I signed up. I chose to let them help me in order to see the quality of the service. Unexpectedly the profile review was very detailed. However, a lot of upselling was involved.
Membership of Swirlr
If you do not want to spend money, you can choose to go with one free membership. On the other hand, you can choose one of the following plans for a premium membership:
One month premium membership comes at a cost of $19.95
Three months premium membership costs $13.17/ month
Six month premium membership costs $11.66/month
Live support options:
· Phone call
· Email
· Live chat
I spoke with them with the live chat and their response time was very quick. Live chat is available 24/7 and they offer a response within 10 minutes (that was my experience).
The site regularly publishes stories of couples that met on Swirlr.com, in a way to inspire others and influence them to look for their other half on their platform. Their blog called 'Fyooz', helps and advices readers to various dating ideas, tips and opinions related to interracial dating. On a first glance, readers come together on those articles and discuss with each other in the comment section. That way, it is another way for singles to interact.
Basic Membership
Regarding the profiles on Swirlr, users can view full singles profiles along with their photos. As a premium member though, you get to be notified whenever someone views your profile. This is a feature called 'Who's looking at me' which gives you more chances to talk to singles that viewed your profile and are interested in you. That will be an influencing factor for me to purchase a premium account.
Basic members can get a free profile review via live chat. It can't hurt to have an expert take a look at your profile and fill you in on some dos & don'ts. If you update your profile it will be approved within 24 hours, so long as you meet the usual conditions.
I could search for whatever preference I had in mind. The amazing part is that the results where within 50 miles from me. The searches can be as specific as you want it to be, you might as well search for a divorced man with a mole on his left cheek for crying out loud.
On the downside, matches are not given to members like other dating websites do. Our faith in Swirlr has restored as soon as I got an email from them with new members' profiles that just joined the site.
Their singles can be reached out with emails and free instant messaging. As far as free messaging is concerned, I noticed that if a member is logged in the same time you are then that's the only way to exchange free messages. Swirlr spices up your convos with 'Photo Flirts'. That is photos you send to singles as a really cute way to flirt with them. You can choose from a cup of coffee, a lovely box of chocolates, a teddy bear and a rose.
All in all, Swirlr's support service is excellent. Members can communicate their issues and concerns for help with a support team staff, six days a week from 7am-9pm (PST), completely free. I, also, tried to reach out to them via live chat and they were more than helpful with anything I asked.
Paid Membership
It is safe to say that no one would say no to a paid membership at Swirlr. It is of high value since benefits and features provided are top-notch for anyone into dating online. They really aim to make our lives easier in all the chaos and nervousness that dating is causing us poor singles out here. The price given in exchange of all their benefits is much lower than other similar sites. The most important feature that is really worth mentioning is the ability to video chat with the singles you are interested in. That saves a lot of time and hustle than arranging dates to meet face-to-face. Additionally, according to their features, a paid member gets to be notified for new members that joined the site before basic members are notified. That way, you get to reach out to them before someone else does.
As a paid member, you get the royal treatment by being a priority and hence, your photos and profile will be verified much quicker compared to basic members.
If you were wondering how communication could be even better than the one provided as a basic member? Then keep on reading!
You can send emails, instant messages and of course the so wanted – video chat that is a life saver. Another great value for money is the fact that you can mark singles as a YES, NO or Maybe and save yourself the embarrassment of talking to the ones not interested in you. Whenever you mark someone, you can see if he/she feels the same way about you. Asides from the video chat, you can talk to singles via private calls without the need to exchange a phone number. Don't worry, your phone number is safe with Swirlr. No more annoying calls and texts from the ones you are not interested in.
You, also, get to start your own chat room and talk to multiple people at once. Swirlr is not only a dating platform but a community as well. Joining Swirlr implies that you are truly interested in interracial dating and so are all the members on there. Why not share your ideas and beliefs with people that get you the most. No one can say no to new friends, right?
There are no extra benefits when reaching out a support rep other than the same way with a basic member. Though, a little extra attention is given to paid members, because you know – VIP treatment!