Latin American Cupid Review
Latin American Cupid Review
Review of Latin American Cupid
Please note:
this page contains affiliate links.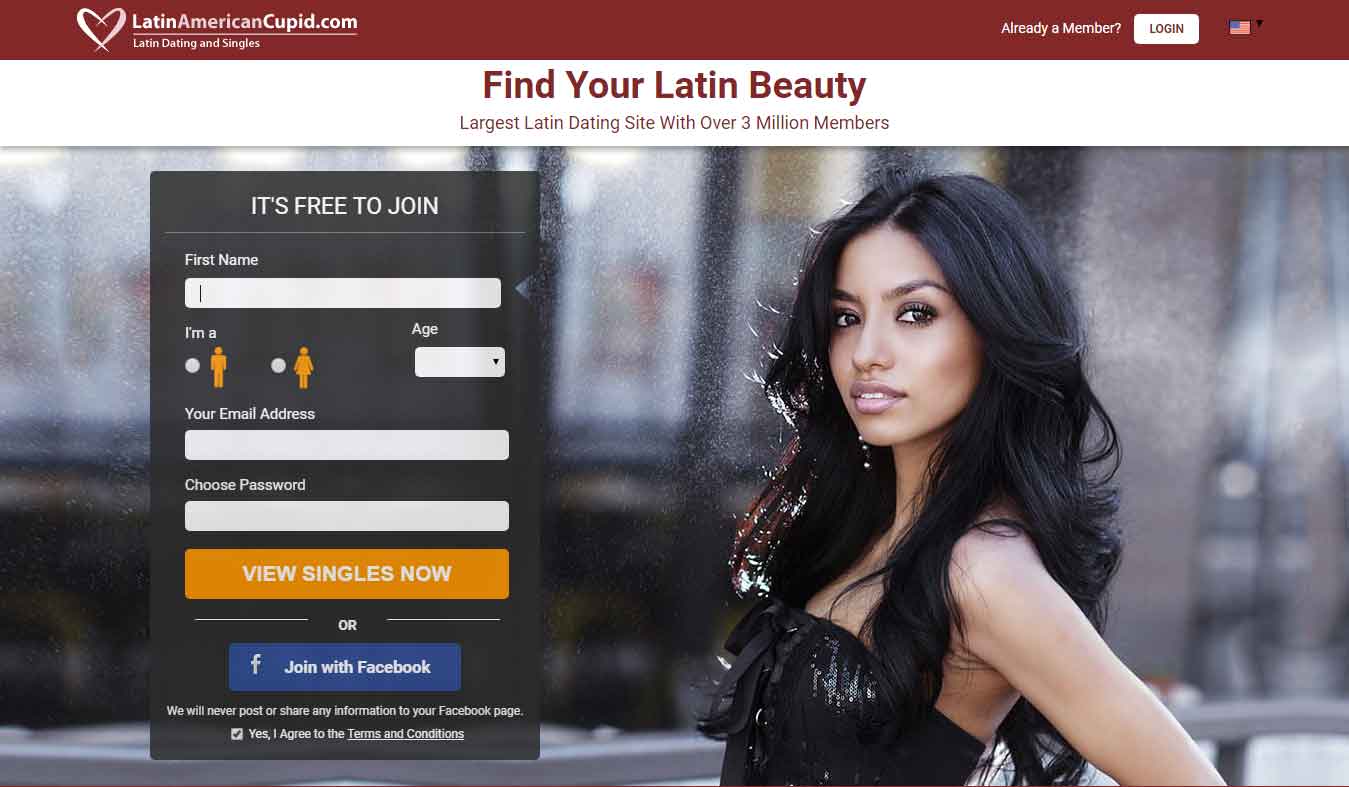 Overview
This site includes a form for IMBRA (International Marriage Broker Regulation Act of 2005), to facilitate visa applications for foreign partners—usually women, and sometimes women "at-risk." It's aimed at international romance. I live in Los Angeles County—population, 9.8 million—and only one of my "Recommended Matches" was even in the United States. You might know this already, but here's a fun fact—we have a pretty large Latino population in L.A. So this probably isn't the site for you if you're just tired of the local bar scene, or you want to meet the person you see in the supermarket but not the club.
There are three kinds of membership—Standard, Gold and Platinum. Standard is free, Gold is $29.99 a month and Platinum $34.99. Those aren't ultra-competitive prices if you're comparing with other sites. With Gold, a six-month package works out to $16.66 a month and the price drops to $10 if you're locked in for a year. Platinum drops to as little as $12.50 a month if you buy a year in advance.
What does spending some coin do for you? One big thing is that Standard members can write to subscribers. I never understand sites that try to get everyone to pay. It's not happening, folks. But the value of a subscription goes way up when free members—who always outnumber subscribers by a bazillion—can communicate with you, but not each other. So this site does that right.
The web pages are simple, straightforward and easy to use. There are lots of success stories posted here, with photos, so you get the feeling this service has worked for people in the past. Unlike many "niche" sites, this one has an active member base. There's always at least 1500 people online. That means chatting opportunities abound.
Again, though, if you're a U.S. resident who prefers to meet people near you, it's not looking too good. I found five female subscribers in the U.S.—meaning women who bought a Gold or Platinum membership—who met my most basic criteria. When I expanded my search to include the whole world, it came back with 80 results. I did get 1000+ results in a search including non-paying members in the U.S.
Profiles are limited to five photos but they're large, high-resolution pics, so you should get a feel for what people look like. This is part of a family of specialty dating sites that have the same solid design. Profile information is clearly presented and well prioritized. You can see right away who and what a member wants, when they were last active, etc. Basic facts (Education, Religion, Children) are lined up side by side as "Matches My Criteria" and "I Match Their Criteria," so it's easy to see how you compare.
Add a video recording to your profile, especially one shot with your web cam and mic, so people can meet the real you and not just read words on a screen. Only Platinum members can view everyone's videos, though. Standard and Gold members can watch Platinum members' videos, but no one else's.
Search is a selling point of the site. You can use keywords or profile criteria and then sort your results by newest members, member grade, last active, photos, etc. Another handy profile/search feature are the "CupidTags." Add words that describe you, what you're into, or what you're not. These CupidTags then become search criteria.
Once you find someone interesting, can you communicate with them? Only subscribers can initiate chat with non-paying members, but you don't have to upgrade to chat with Gold or Platinum members. You do need a photo on your profile or you can't chat. Standard members can "Show Interest" in anyone who catches their eye. But there are no smiley-faces, pickup lines or conversation-starters to choose from. You can't send Flirts, you can only "Show Interest." That does the job, in kind of boring way.
The site encourages profile verification, which is free. Just send in a scan of your I.D., and they will verify details such as your name, gender, date of birth, etc. A "Verified" badge then appears on your profile, giving prospective dates peace of mind.
There are no chat rooms, message boards or online magazine to foster community, share dating tips, or spark conversation about the life of the single chica/chico. For as much as the site charges, you'd think they might flip you some content, but it's not happening.
The FAQ is well-organized but there is no live chat support or a toll-free number to call if you have questions. All you can do is fill out an online form.

Free Membership
LatinAmericanCupid.com offers Standard members an opportunity to interact with subscribers and learn a lot about other members before deciding to upgrade.
Profiles—
View other members' full profiles, including full-size pics. The site will also tell you who's looked at your profile, rather than withholding that info until you pay.
Searches—
Use keywords and lots of other search criteria. They don't limit standard members' ability to search.
Matching—
If there are 1000+ members in the U.S., why are all my matches overseas? I don't know what their system is, but I don't dig it. My preferences are set for someone in my own country.
Communication—
Standard members can send and receive messages to subscribers or IM with them, so long as you have a photo on your profile. "Show Interest" (a generic Flirt) to notify non-paying members that you'd like to get to know 'em better.
Support—
Spotty! The FAQ is fairly decent, but there is no live chat or toll-free customer-care line.
Paid Membership
Pricey, but subscribers can be contacted by any member of the site. This helps to justify the high cost of an upgrade.
Profiles—
When other members order their search results using the "Order by: Member Grade" option, you come up first.
Searches—
There doesn't appear to be any advanced search capability reserved for paying customers, but you don't need it. The standard search will do the job.
Matching—
All signs point to Gold or Platinum members getting the same poor matching Standard members do.
Communication—
Platinum members, or members chatting with Platinum members, can use their webcam and microphone in the Instant Messenger. Gold members can't. All subscribers can include personal information in their messages.
Support—
No special treatment for the paying customer, which is bad.