Interracial Romance Review
Interracial Romance Review
Review of Interracial Romance
Please note:
this page contains affiliate links.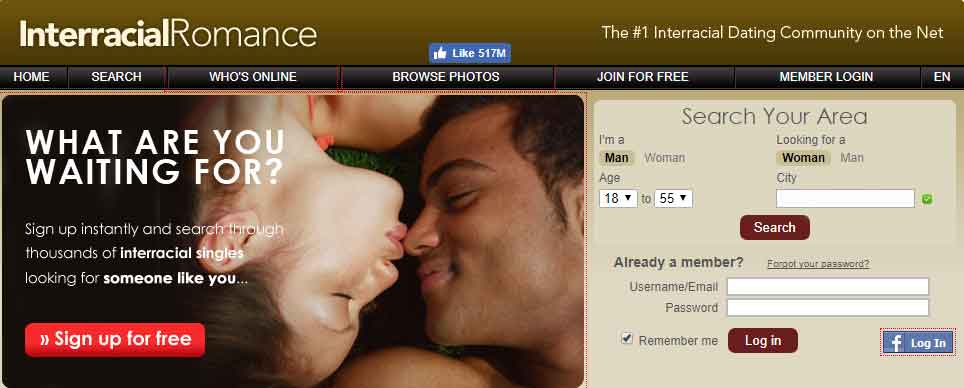 OVERVIEW
InterracialRomance.com is a "do it yourself" site—they offer no matching services. However, the site makes searching for singles in your area easy. While I live in a heavily populated area (Southern California), it was still impressive how many results a basic search yielded. The search returned the maximum number of results, 500, and 370 of those profiles had at least one photo. All were within 100 miles of my location and between 20 and 40 years old.
However, it's unclear how many of these singles are active members. It's telling that whenever I logged in there were only about 15-to-50 members on the site. The site declares "we have hundreds of thousands of members," but there is no attempt to prove this assertion.
That's not the only claim made but not substantiated. Though a banner states the site is "The Number 1 Interracial Dating Community on the Net," the site doesn't explain the criteria by which that judgment is made. Nor is much said about how premium features work or why you should pay to use them. While the value of the site speaks for itself, to some degree, communicating that value to customers is important too.
Profiles are extensive and can accommodate up to 150 photos, possibly more. In any case, that's many more pix than most competitors allow! Members also have the opportunity to answer very specific questions with a minimum of effort. Some of the predefined answers are funny, but nothing someone trying to get a date should use. The site offers the opportunity to sound like a total jerk. I suppose this does help you spot and stay away from the wrong people…
"My Best Feature" is a good opportunity to put your best foot forward (literally, as the case may be) and tell people what part of your body you're proudest of. There are the usual essay questions, such as "An Ideal First Date Would Be…" but also more intriguing ones like "My Goal in Life" and "I've Always Wanted to Try…"
As with most sites, you have to purchase a "premium membership" to do much. Clicking on almost any part of the site will take you to a basic "upgrade now" page that says little about the benefits of subscribing. Free or "basic" members can't see full-sized profile photos, only thumbnails. Communication is limited to 30 flirts, though basic members can use instant messaging if initiated by a paying member.
The site's "Flirt Selector 3000" is not as high-tech as it sounds. The flirts are poorly written and awkward. At least they aren't cliché—few people would think to send these to each other! Another reason to upgrade, I guess.
The FAQ is very basic, but during business hours members can get live customer support via online chat. After a 10-minute wait, I was briefly connected to a representative but as soon as I asked my question ("How many photos can I upload to my profile?"), the chat session was ended without an answer being given. The same simple question emailed to customer service was never answered, either.
All members have access to a feature called the "little black book." If two members add each other to their little black books, they can see profile photos most members can't.
Free Membership
You have little opportunity to interact with other members without upgrading first. Unless someone likes your profile enough to IM you while you're on the site, you've got 30 flirts to use and that's it.
Profiles—
Full access to profiles except photos; only thumbnails can be viewed. Standard members can see if other members have viewed their profiles, but can't see who viewed them. This is typical of dating sites.
Searches—
Basic search capability only, but it should be enough to get the ball rolling for you.
Matching—
The site provides no matches.
Communication—
30 Flirts and instant messaging if a subscriber initiates conversation while you are logged into the site.
Support—
Contact a customer service rep during business hours via live chat. I had trouble getting an answer to a basic question, unfortunately.
Paid Membership
A premium membership offers considerably more features than a basic membership. With it you can send unlimited messages, initiate chat, participate in chat sessions, see full-size profile photos and utilize advanced search capability.
Profiles—
No additional features are advertised that would make your profile stand out from those of members who aren't paying a cent.
Searches—
The site offers a Premium Search with "31 BONUS search options," but does not explain what they are before you pay for them, other than to promise that users will "find MORE matches in LESS time." Okay, I guess we'll take your word for it.
Matching—
The site does not advertise any matching features for premium members.
Communication—
Unlimited messages, the ability to initiate IM conversations and participate in "Forums" (chat rooms and/or message boards).
Support—
The site does not promise premium members special attention, so subscribers can't expect more than the not-great customer service that basic members receive.