Interracial Dating Central Review
Interracial Dating Central Review
Review of Interracial Dating Central
Please note:
this page contains affiliate links.
OVERVIEW
This site has three big strengths. First, it makes it easy for singles to interact. Second, you can get a real, live customer-service person on the horn anytime you want. And third, the search function is kickass. The site's main limitation is its matching—there isn't any. Guess I'm lazy, but I like to get matches so I don't have to run a search.
There are always thousands of members online, so it's not hard to find someone to talk to when you don't want to wait for emails to be returned. A paid membership is not required to read and respond to emails from subscribers. If you post an appealing profile, "guest" members can communicate quite a bit before needing to upgrade.
Profiles answer telling questions about sense of humor, hobbies and how you handle yourself at a party. This presents a lot of basic information, but there aren't a lot of "bonus" questions to flesh out a personality in specific detail. Members have to fill in the blanks themselves in the standard essay fields, so it's easy to end up with a generic-sounding profile unless you go above and beyond to stand out from the crowd. Also, it would be nice if members could post more photos; basic members are limited to five and subscribers get 15.
Whether you subscribe or not, they offer a free profile-review service to whip your profile into top shape. I tried this out and a rep named Kevin gave me good advice about my profile photo and what kind of tone to set in the written part. They didn't keep me waiting and the whole thing took about 20 minutes, tops. The service is available on demand (no appointment necessary) via live chat from 7 a.m. to 9 p.m. (Pacific).
InterracialDatingCentral offers several customer-service options—call, email or chat to get your questions answered. I got a personal response 25 minutes after emailing in my inquiry. I was kept waiting less than a minute for live-chat support both times I tried it out. Chat is available Sunday through Thursday from 6 a.m. Pacific to… Well, I didn't stay up all night to find out, but I remember the "Live Help—I'm Online" icon was lit up until well after 10 p.m.
If you prefer talking to typing, there's a toll-free number to call Sunday through Friday between 1 p.m. and 9 p.m. (Pacific). I guess they take Saturdays off. Another way the site scores points for customer service is their "Money Back Guarantee." While there are some conditions involved, new subscribers can call in to get a refund after 90 days if the site failed to meet their expectations.
The custom search is a powerful tool for finding someone who fits your criteria exactly, and it's available to free members, too. Any part of the profile questionnaire can be set as search criteria so if education, fashion sense or favorite leisure activities are important to you, just choose the answer you want to hear. The site's membership base is large enough that unless you live "out in the sticks," chances are good that your search will produce results in your area.
Chat rooms are open to all, once your profile is vetted by the site and approved. There is a two-hour monthly limit for guest members. There are usually a couple of dozen people in the main room. One cool thing about this site is that paying members can create their own chat rooms where they set the guest list themselves.
People who have found love through the site send in their stories, with pictures, so inspiration is always close at hand. The site actually links to an e-zine called "Fyooz" where singles can find advice, opinions, success stories and dating humor. Readers actively discuss the content in the comments section, so the e-zine is also a way to interact with other singles.

Free Membership
The site isn't stingy about making features free. You can do quite a bit before you spend a dime. Gorgeous young women can probably post a profile and sit back as the emails and IM requests come rolling in, so long as paying members are the ones to initiate contact. Ultimately, though, the vast majority of us will want to subscribe when we get serious about meeting people. That's how the site's best communication features become available.
Profiles—
You don't have to pay to see other members' full profiles, including high-quality photos. Basic members can't see who has looked at their profiles, which is considered a premium feature the site calls "Who's Looked At Me." That's not uncommon among dating sites.
Basic members can get a free profile review via live chat. It can't hurt to have an expert take a look at your profile and fill you in on some dos & don'ts. If you update your profile it will be approved within 24 hours, so long as you meet the usual conditions.
Searches—
Run ultra-specific searches, if you so desire. I looked for someone college-educated with a "goofy" sense of humor who likes books and volunteering. The search turned up pages of results, all within 50 miles of me.
Matching—
The site provides no matches at this time. That's a bummer. However, all members receive update emails with links to new profiles recently posted to the site.
Communication—
Read and reply to emails. Free instant messaging, if a subscriber starts the conversation while you are logged into the site. Choose from four photo Flirts: a cup of coffee, box of chocolates, teddy bear or a rose. While that's not a great selection, at least it gets the ball rolling and you can send as many Flirts as you want.
Support—
Top notch. Six days a week, you can reach a rep between 7 a.m. and 9 p.m. (PST), toll-free. Live chat is available almost anytime and there was never any waiting when I had a question for them.
Paid Membership
This membership is a good value, as the price is significantly lower than most competitors' and you get features worth paying for. If you have a webcam, try video chat to talk "face-to-face" before making plans to meet in person. Premium members also find out first when new members appear on the site, giving you a nice head start on the competition. There are also cool communication options (more on this below).
Profiles—
Subscribers receive special treatment when it comes to getting prompt approval of new photos or other profile changes.
Searches—
Premium members have access to the same search capabilities that guest members do.
Matching—
The site provides no matches at this time. However, all members receive update emails with links to new profiles recently posted to the site.
Communication—
Premium members can send emails, start IM conversations or initiate video chat. They can mark members as a "Yes" or "Maybe" and see who feels the same way about them. Subscribers can also arrange anonymous private calling to talk on the telephone without anyone's real numbers being exchanged. This is a great feature, especially for women worried about getting calls from guys they'd rather not talk to again.
Want to open your own chat room, send out invites and boot the unwelcome when they crash your party? The site also offers the curious this unusual capability.
Support—
Despite the absence of an FAQ, customer support is a strength of the site. With all these ways to reach a rep, you can always get help when you need it.
Interracial Dating Central
Review by: InterracialDatingSites.com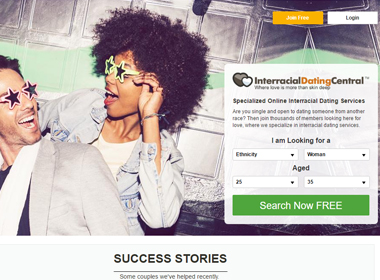 Interracial Dating Central
Visit Site