Review of Thai Flirting
A 100% free dating website – Thaiflirting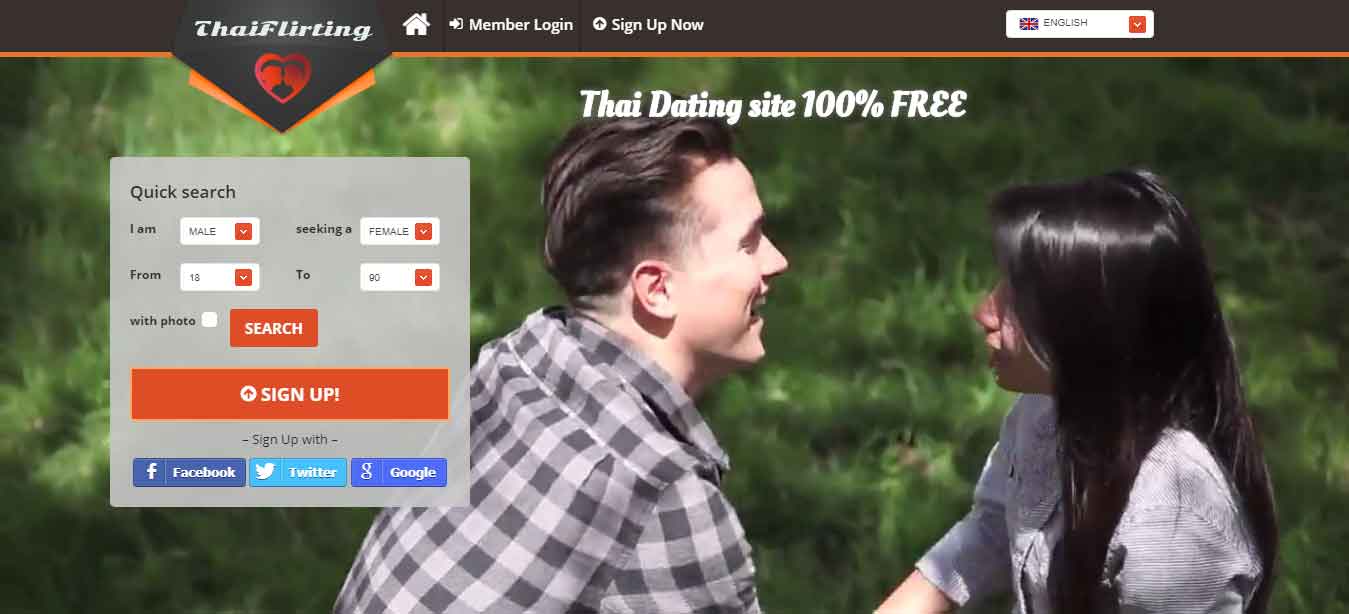 Dating website Thaiflirting is one website that gives you access to Thai single men and women. Dedicated to singles living in Thailand this dating portal gives a chance to people worldwide to find and date single men and women living in Thailand. The website boasts of a local presence and professional services for the Thai population.
This is one website that caters to the global dating community. Thaiflirting gives you an option of choosing a language that you are comfortable with. Catering to the global community since 2013 Thaiflirting has come a long way and established itself as a leader in the Thai dating niche.
Creating a profile is easy and can be easily done with your Facebook, twitter to Google account. Thaiflirting is one dating website that sets the expectations of its users from the word go. You can create a profile for yourself to create a meaningful friendship, a relationship that gives you emotional support, romance you are going to carry for life or even marriage. Details asked by the website are quite easy that do not require much thinking or research. Just a few details about you and a few details of what you are expecting from your dating partner.


Pros

Open access even for non members
Profiles of members are available to everyone on the web which of course creates interest in the website. Getting a chance to see through the members their expectations and comparing if you fit in the bill of course is a great start to an awesome dating experience. The compatibility and matching with the members already present on Thaiflirting can be done by just looking at the profiles.
Messages can be sent instantly
Once you have created an account and found the most suitable partner to date you can send a message at once to check their interest in you. If they are interested they are surely going to respond back to your message else you can check another partner for yourself on Thaiflirting.

A hot list can be created
Thaiflirting gives you an option of creating a hotlist for you. Once you are on the website ready to message or chat someone but still have not made up your mind and want to check out other members before actually finalizing your date; you can add them to your hot list. Once you have made up your mind or want to keep several people at once within your dating profile you can do it via the hotlist.

Option of blocking unwanted people
A black list can be created for people whom you do not like or you don't want to be contacted by those people. Create a black list and people will be blocked from you. You do not have to bear with someone whom you do not like or are not really comfortable with.

Chatting and video chatting
The highlight of the website is the free chatting and video chatting open to all its members. Keeping its promise of delivering professional services to people Thaiflirting has been able to provide the best chatting and video chatting platform to its members.
Clear cut expectations
People becoming members on the website are exposed to the expectations and appearance of their potential date. They are also in a position to lay out their own expectations and appearance in the form of the statistics that can be entered via the predetermined questions and via uploading images.

Cons
Your profile is visible to everyone using the internet
This is one of the glaring glitches I found personally that was a put down for me. Anyone who registers on Thaiflirting is exposed to people who come visiting on the website. Many people want to date discreetly which makes the website a bit awkward for people who don't want other people to notice what exactly they are up to or with whom they are moving around these days.
Photographs are available to non members
Photographs of members are available to non members which is another thing that was not really a good factor for me. Having your photographs lying unattended especially the ones you intend to use on a dating website is something I will strongly disapprove of.