Review of LankaFriends
Please note:
this page contains affiliate links.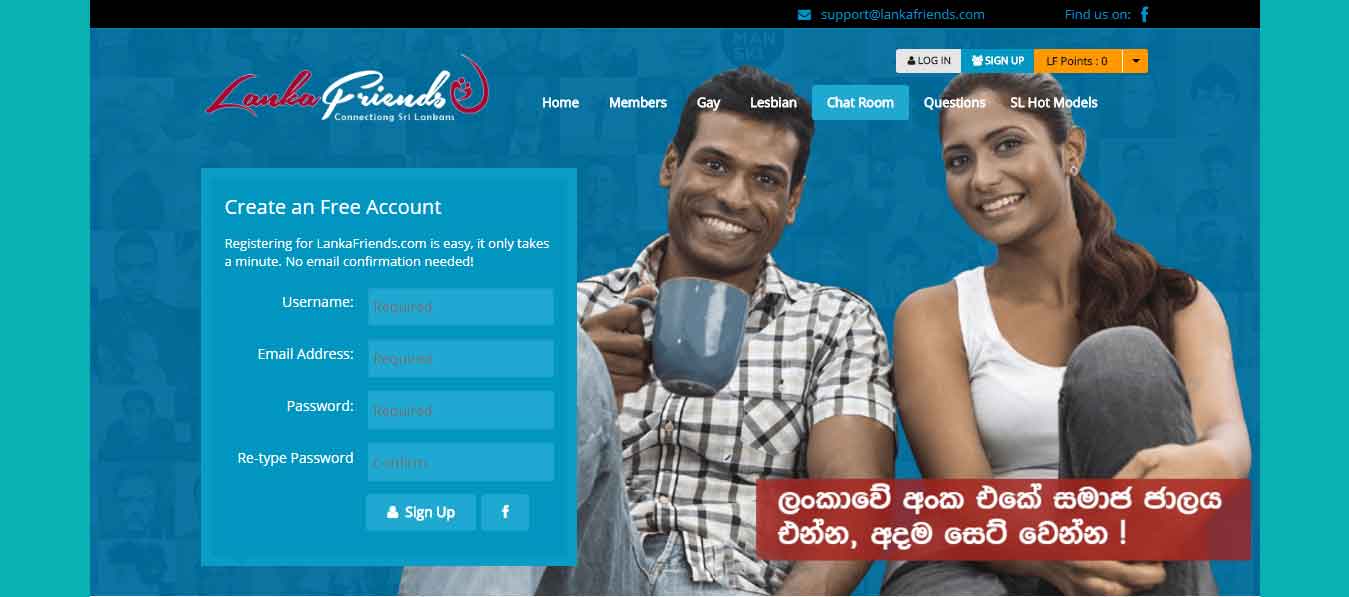 Overview
A dating website with a difference – LankaFriends
LankaFriends although a local dating website in Sri Lanka – a country in the Asian Subcontinent boasts of the most beautiful men and women. LankaFriends has the largest database of Asian singles in its database and is quite a hit among white men and women, Latino men and women, Black men and women – almost all races and ethnicities of the world. Sri Lankan single men and women are quite open to date men and women from other races from any part of the world which is a big reason for the rising popularity of LankaFriends.
Moving around the website is easy. One gets access to all the features in one go. LankaFriends believes in equality and gives equal chance for the gay and lesbian community on its platform to find link minded people. Straight, gay and lesbian all people deserve the chance to find their significant other and this is what exactly LankaFriends is doing on the web.
Signing up on the website is a breeze and does not take more than 15 seconds if you have all the details handy with you. LankaFriends just asks for you name email, age, sex and your preference to date a man woman or even a couple. You are prompted to upload a profile picture of yours which is highly recommended to get noticed by the LankaFriends community.
Pros
Messaging a member already there on LankaFriends is easy and can be done even without registering on the website. A chat room window is something you are going to find at all times on the website, you can either participate in the general chat that is already in progress or click on a particular member to chat in private.
Free dating portal for serious daters
This is one dating website where you can find a lot of Sri Lankans to date still you don't have to shell out a single penny. Majority of dating websites that offer a chat facility are paid.
Chance to date Hot Sri Lankan Models
LankaFriends gives you a chance to meet and date hot single Sri Lankan models. Although you will be diverted to another website once you click on the link to date Sri Lankan models. Keep your options open and hopes alive once you are there on LankaFriends.
A separate Question and Answer module to clear doubts of members
While dating people have many questions which many times go unanswered. LankaFriends has taken care of this shortcoming in dating websites. Community members will provide you the best response and feedback to the various questions you have regarding dating or any other stuff while dating.
Separate communities for Gay and Lesbian
Dating websites that offer a dating opportunity to all individuals without discriminating on the basis of their sexual orientation are quite few. LankaFriends provides this excellent opportunity of meeting gays, lesbians and straight individuals all on one platform.
Cons
Website template could have been better
The Website template used by LankaFriends looks a bit outdated and worn out. A better GUI could have done wonders for users who come to the website for a great user experience. Chats sometimes are incomprehensible due to the native language that runs in the chat room. A translator would have been quite helpful especially for people from other ethnicities and races who are unaware of the native language.
Advertisements play spoilsport
A lot of advertisements keep running on the website which is quite a put down. However considering that many of the features that would have come with a price and that too a hefty one come free on LankaFriends. You are able to chat and communicate with your potential date without paying a single penny.
Looks more of a local website than something that caters to the global community
LankaFriends as the name suggests caters more to men and women of Sri Lankan origin rather than people from other parts of the world. The majority of men and women found on LankaFriends will be of Sri Lankan origin.
No Information about how to earn points
Although there is an option of earning points however the website is not very clear about how once can earn these points and what is the fun of earning the points on LankaFriends. Ranking of members is also done but the criteria to achieve a high rank is not really clear. Maybe the number of hours you have invested on the website is a criteria for achieving a good rank.